The Weekly Shtiebel Lens
Summer 2020 Pilot Series: Newsletter #2
Dear Cinephiles and Ethicists,
Thank you for expressing interest in the August 2020 pilot of FilmShtiebel! This week's newsletter will provide information about upcoming programs, a few recommendations of films and events "around town," digitally speaking, and ideas of themes and films for which we would welcome your feedback.
- The FilmShtiebel Team
---
In the Shtiebel
August 23, 2020: Considering Reality TV Ethics in The Truman Show
We were joined by a dynamic range of individuals crossing generational and regional boundaries, and discovered the surprising strength of people's emotional responses to reality television. To these reactions, we brought discussions of truth, identity, and the power of speech.  
Some questions we considered:
How much of reality television reflects reality versus the priorities of the production team?


How does the experience of watching reality television affect our understanding of how people choose to live their lives?


What does Judaism have to say about the power of speech in reinforcing reality and our understanding of ourselves and our world?

If you missed this session and want to know more about it, please drop us a line!
Upcoming
**This event closes out the August pilot series! Please register to receive the Zoom link**
---
Events Around the Digital Town: Beyond the Pilot
We were thrilled to be joined by current Wellesley students Molly Flanagan '21 and Ilana Tamir '22 for the launch of this program, and wish them well in starting the Fall semester next week. In the meantime, Ashira Beutler-Greene and Rabbi Heather Miller are gearing up for the Jewish New Year and High Holiday season.
Ashira Beutler-Greene, Ph.D. : GatherDC Alt_YK partnership

To help us navigate this weird new year together, GatherDC is launching our Friday Night Film Club with FilmShtiebel to connect to the intentions of the High Holidays through secular cinema. Over the course of three weekly 1½-hour meetups next month against the backdrop of "Crash/Burn/Rise"—GatherDC's theme for High Holidays this year—the first Friday Night Film Club cohort will watch and discuss the following trio of films in virtual Shabbat gatherings:
The general GatherDC demographic is anyone post-college/pre-family in their 20s & 30s in the Washington, DC area who identify as Jewish—or what we call "Jew-curious"! If this sounds like something you or someone you know would be interested in, please complete this form by September 2nd.
Rabbi Heather Miller: Keeping it Sacred's Sweet and Sacred Season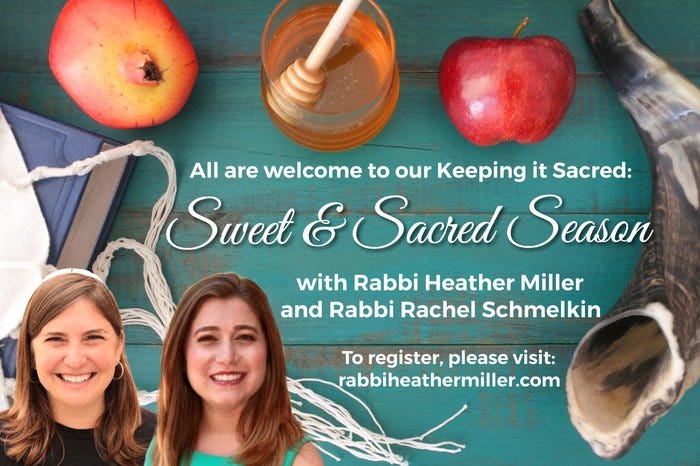 This year is different from all other years. But, we at Keeping It Sacred are dedicated to lifting up the essence of the High Holy Day Season: Sweetness and Sacredness. Join us for intentional programming rooted in the wisdom of Jewish tradition. All programs are designed by Rabbi Miller to be accessible, relevant and empowering. Explore the programming HERE.
Rabbi Heather Miller and Rabbi Rachel Schmelkin will co-lead our Sweet and Sacred Season Services for the High Holy Days with soul-stirring teachings and melodies.
---
This Week's Recommendations
Other films that remind us of…The Truman Show:
The idea that ignorance is not bliss: Pleasantville
Being true to oneself: Chungking Express 
Joy and fears of exploring a new world: Willy Wonka & the Chocolate Factory
We welcome your thoughts on these films as well as recommendations for future programming!
---